"I would highly recommend it to my construction workers and colleagues. Because our work exposed us to solar UV radiation and heat for a long period of time, our body can be heavily weakened through dehydration and sunburn. Thanks to Coolbit hats, I was protected from the sun during work in the summer. This product also pleased my bosses in the company who are now adopting it in our business practices."
Reviewer from Outdoor construction worker
"My first impression was that it has strong cooling feature which makes it comfortable for my 15km run. Even after an hour of running, it maintained its coolness to the end. Before using Coolbit hats, I would turn my towels and clothes into a make-shift flap to protect my neck but it is less effective against strong and dry wind conditions. However, the Coolbit flap sticks firmly with my hat and maintain its moisture and breathability to keep my neck cool at all time. The entire hat is lighter than expected and breathability is also the best.
In the past, I used other breathable sport hat brands, but they could not be compared to Coolbit hats in term of quality and durability. For example, after using the Coolbit hat, it still maintains lightness and smoothness even after being exposed to huge amount of sweat during a long workout, but other brands become soggy with sweat. This highlighted the main selling points of Coolbit hat which is their superiority in breathability. This feature enabled sport professionals like me to focus and complete my training."
Reviewer from Outdoor runner, sportsman
"Coolbit Hat is my "lifeline" in a large-scale summer event as it not only relieves me of the heat and humidity from the early morning to the scorching afternoon, but also from the trapped heat in the room. It also protect you from the humidity during the rainy seasons. Overall it is our "lifeline" when participating in events in the summer season."
Reviewer from Metropolitan government office worker
"This is highly recommended for use during sports events during summer! When we play tennis under the hot sun during the long summer, the heat makes me feel really tired and sluggish but ever since I start using the Coolbit Double Mesh Cap, I get tired less easily. I feel that the behaviour that tends to become sluggish is also getting better."
Reviewer from Outdoor sports, tennis
"Coolbit hats can protect one from heat when one is riding motorbikes."
Reviewer from Outdoor commuting & travelling/Motorcyclist
"Coolbit hat can be a great companion for outdoor sports and golf in today's hot weather!"
Reviewer from Outdoor sports, Golf
Coolbit Hat (Wide-Rimmed Hat)
"I am surprised that the product is able to cool the body for long period of time especially the neck area, with the cooling sensation behind the neck. The hat still retained its cooling properties after I wore it at a local meeting, folded for about 30 minutes, and left it on the desk.
The hat is well designed. The chinstraps on my hat did not fly or become misaligned during my cycling exercise (The string was designed for outdoor wear. It was cool and nice even if it was tightened when wearing it.)
Hats with functions that protect against ultraviolet radiation are often designed for the ladies, but this hat is fashionable and there are also various categories such as for workers and outdoor sports. I thought it look very nice on me as I was wearing it.
I am planning to wear it even in the summer sports camp. It is hot and difficult to go back and forth around Shinjuku, but since the training camp is a plateau, I can use it as a cool sunshade hat on site."
"My husband had been gardening all day under the hot summer weather, cutting grass, and suffered a serious heat stroke. So, when searching for ways to prevent this, I found the Coolbit hat by chance. Heat stroke and sunstroke occurred a lot in the summer in all countries. I was very scared of the effects of heatstroke on elderly health. Next time I buy it, I will ensure my husband get covered with a Coolbit hat during gardening."
"These hats are so unique with a special back flap that can help to protect us against the really hot weather in Singapore. Not just against UV radiation and glare, the special back flap also helps to keep us cool and fresh for up to four hours. Moreover, even after a long day full of activities, I do not need to take too much care for the hats as they have other special properties such as the anti-static fibre with deodorization and also anti-bacterial effect to help keep it safe for me to use. Last but not least, washing it can never be easier by just putting it in the washing machine."
Coolbit Long Flap Cap
"I like the Long Flap Cap as it provides additional coverage against hot sun and more protection around the neck area."
"The removable flap of the cap is designed with pockets that provide added option to put in ice packs or ice cubes so they can keep me cool and refreshed for a much longer period of time. Now, I feel less lethargic and more energized playing and teaching golf under the hot sun for more than 2-3 hours."
"My daughter in elementary school finds it light and has good breathability. It also does not collapse when packed so it is easy to use."
"It is already used by my twin children. I really like its functionality. When I put on the hat, I am often asked where I bought it. I also want to buy it for my third child."
"A few days ago I bought three Coolbit UV Flap Hats. My children have found them cooling and comfortable to wear, so we decided to purchase a red and white hat as well.
Thank you for sending the product promptly. By the time it arrived, the weather was quite bad due to the strong sun and humid weather, which is peculiar to the rainy season, so we immediately tried the Coolbit hat.

The flap was bigger than expected as it covered the whole of the back of the neck and I was surprised that the cooling sensation can be maintained for a long time.

Until now, climate change has been a big problem as the hot weather gets increasingly hot and winter gets shorter. However this product works well. The coolness lasts for a while with the cold water ... it is like a thin film of triangle bandana. I have tried other products previously, but this product has been the most effective so far."
"The Coolbit hats are unique. I like the special UV protection and cooling functions. Also the hats come with strings that can be tightened when wearing so there is no need to fear being blown away by wind when I am traveling or on a ship. It can also be machine washed easily."
"To the nursery school students, it was a fashionable hat, but from an elementary school, this seemingly ordinary hat is surprisingly functional."
"I like the Coolbit Flap Cap because it has special cooling and UV light protection function with its unique back flap made of special materials."
Attakaro Warm Wear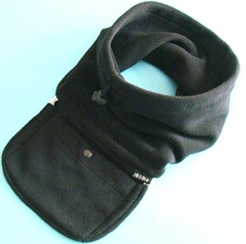 "Until recently, when using disposable body warmer such as bamboo warmer etc., we had simply been putting on pockets of clothes. With Attakaro warm wear, it is able to warm the acupressure points at the back that are the most vulnerable to coldness. As a person riding a motorcycle for commuting and travelling even during winter times, I am very impressed by the product. The best part of my experience, as I put on the warming Attakaro wear rather than a disposable warmer, was that the coldness experienced by my upper body would be alleviated so much just by the warming of the back. This is quite a pleasant surprise. The stiffness of my upper body's muscles due to coldness was no longer so bad and I was able to feel more relaxed. I am even using it after getting home, wearing as it is with Attakaro and a thin fleece from above. With this, heating of the room is no longer necessary. For warming purpose, the Attakaro is to be worn together with a heat pack, which can be put directly into the Attakaro pocket that serves as a pouch. Usually a heat pack can be quite hot when in direct contact with the body but Attakaro plays the role of a pouch. The belt part of Attakaro also serves the role of a neck warmer, so you feel doubly warm even in cold weather."
"I know of Coolbit hats through online referrals on the internet as I heard rumours of it from my tennis partners who indicated how "comfortable" it is during hot weather. I like it very much since I bought it last year that I shared it with other interested parties of tennis clubs and they are interested and this is my tenth piece with this purchase."
"In June, I gave it to my father as a gift for father's day during summer who used it to protect himself from sunburn during gardening. He commended that it is comfortable to wear during hot weather, especially the flap part behind the cap which gives a special cooling effect for the user."